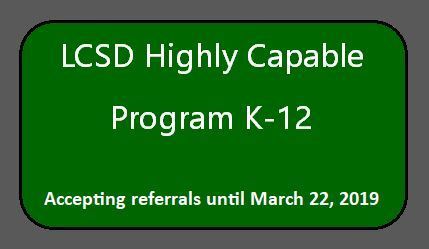 LCSD Highly Capable Program K-12
LCSD
Monday, March 04, 2019
Lake Chelan School District Highly Capable Annual Notification
At this time, Lake Chelan School District is soliciting referrals from the community and parents of students that are believed to have a high capacity to learn quickly, deeply, and/or broadly, so that we can better provide an individualized educational service to each of our students. Students referred through this process will be considered for services to meet their needs based upon screening and assessment with the permission of their parent/guardian.
Definition of highly capable students means those students who:
Perform or show potential for performing at significantly advanced academic levels when compared with others of their age, experiences, or environments.
(1) Capacity to learn with unusual depth of understanding, to retain what has been learned, and to transfer learning to new situations;
(2) Capacity and willingness to deal with increasing levels of abstraction and complexity earlier than their chronological peers;
(3) Creative ability to make unusual connections among ideas and concepts;
(4) Ability to learn quickly in their area(s) of intellectual strength; and
(5) Capacity for intense concentration and/or focus.
(WAC 392-170-035, WAC 392-170-036)
Forms to make such referrals can be obtained at the end of this news story, on the Lake Chelan School District website and in the school office. In order to be considered for identification for the coming school year, referrals should be returned to the building secretary and should reach us by March 22, 2019.
Notificación de Altamente Capaz del Distrito Escolar de Lake Chelan
En este momento, el Distrito Escolar de Lake Chelan está solicitando nominaciones por parte de la comunidad y padres de alumnos que se cree que tiene una alta capacidad para aprender rápidamente, profunda y/o ampliamente, de modo que podamos mejor ofrecer un tratamiento individualizado servicio educativo a cada uno de nuestros estudiantes. Los estudiantes nominados a través de este proceso serán considerados para los servicios para
satisfacer sus necesidades basadas en el cribado y evaluación con el permiso de sus padres/encargados.
Definición de estudiantes altamente capaces significa aquellos estudiantes que:
Realice o muestre el potencial para funcionar a niveles académicos considerablemente avanzados comparando con otros de su edad, experiencias o ambientes.
(1) Capacidad de aprender con la inusual profundidad de comprensión, para retener lo aprendido y para transferir el aprendizaje a nuevas situaciones;
(2) Capacidad y disposición para tratar con el aumento de los niveles de abstracción y complejidad antes que sus pares cronológicos;
(3) Capacidad creativa para hacer inusuales conexiones entre ideas y conceptos;
(4) Capacidad de aprender rápidamente en sus áreas de la fuerza intelectual; y
(5) Capacidad para la intensa concentración o enfoque.
(WAC 392-170-035, WAC 392-170-036)
Las formas para hacer estas nominaciones pueden ser obtenidas en el sitio de internet del Distrito Escolar de Lake Chelan y en la oficina de la escuela. Para ser considerado para la identificación para el próximo año escolar, las nominaciones deben ser devueltas a la secretaria de la escuela para el 22 de marzo de 2019.