Chelan Student Heading to West Point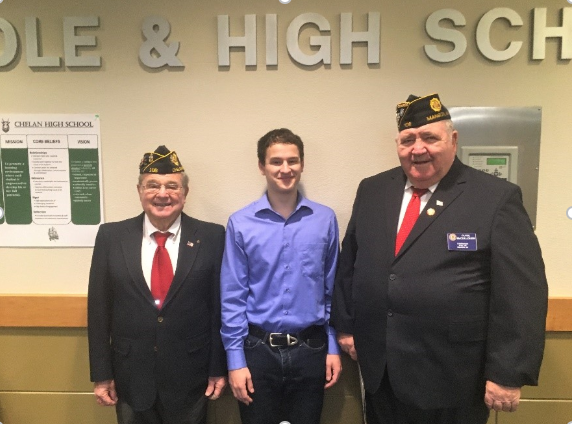 Vice Commander Brian Stausbaugh, Max Nimz, and Commander Clyde McCullough 
Max Nimz, Senior Class President at Lake Chelan High School set his goal of serving in the military when he was nine years old. When visiting his grandmother, Max remembers fondly waking up in the morning with grandma barking out, "You're in the Army now!" Max has several family members that have served in the military. 
At the end of his junior year Max found out about Evergreen Boys State, a program of the American Legion developed from the concept that youth should be offered a better perspective of the practical operation of government and that the individual is an integral part and commensurately responsible for the character and success of his government. Working with John Swenson, Manson American Legion Chaplin, Max completed all requirements and attended Boys State June 16 through 22, 2019 at Warm Beach Conference Center in Stanwood, Washington with all costs covered by the Manson American Legion. 
"Not only was this an amazing experience it's an impressive resume builder. Bill Clinton, Wesley Clark, Dick Cheney, Neil Armstrong, Jon Bon Jovi, and Michael Jordan are just a few of the famous men that attended Boys State in their youth. I was convinced this program was for me, I strongly encourage others to attend," Max said. 
Talking about impressive resumes, besides serving as senior class president, Max is a Science Olympiad, representing Chelan in the Knowledge Bowl, has played in band since sixth grade and plays 32 instruments, serves as Assistant Scout Master for the Chelan Boy Scout Troup, and is Lodge Chief for all Eastern Washington's Order of the Arrow. 
Max has been accepted at West Point and will report to New York on June 29, 2020, and begin ten weeks of "Beast" basic training at the Academy. With the Beast behind him, Max will begin school and plans to graduate with a Bachelor of Science Degree in International Affairs and a Minor in Grand Strategy. Classroom time is nine months of the year and three months of Advanced Development Programs outside the classroom. 
All of us at the Manson American Legion are very proud of Max, we wish him success in following his dream. Dates for Evergreen Boys State are June 21-27, 2020. The program is open to all males that have completed their junior year of high school. A similar program, Girls State is an Americanism and government training program sponsored by the American Legion Auxiliary. It is a nationwide program for girls who have completed their junior year of high school. If you would like more information on either program contact John Swenson. Manson American Legion at 360-359-3506. 
By Norm Manly 
Post-Service Officer